Privacy Policy
1. Introduction
1.1 This privacy policy sets out how Adonaifields Properties Limited, trading as Chayil Experts in Serviced Apartments, collects, uses and is responsible for certain personal information about you. When we do so, we are regulated under the Data Protection Act 2019 (and, until the United Kingdom ceases to be a member of the European Union, the General Data Protection Regulation 2016) (Data Legislation) and we are responsible for that personal information for the purposes of Data Legislation.
1.2 We are committed to ensuring the privacy of our customers and will only use information you have provided to us in the process of booking a stay in our serviced apartments in accordance with this policy.
2.1 We collect the following personal information when you provide it to us: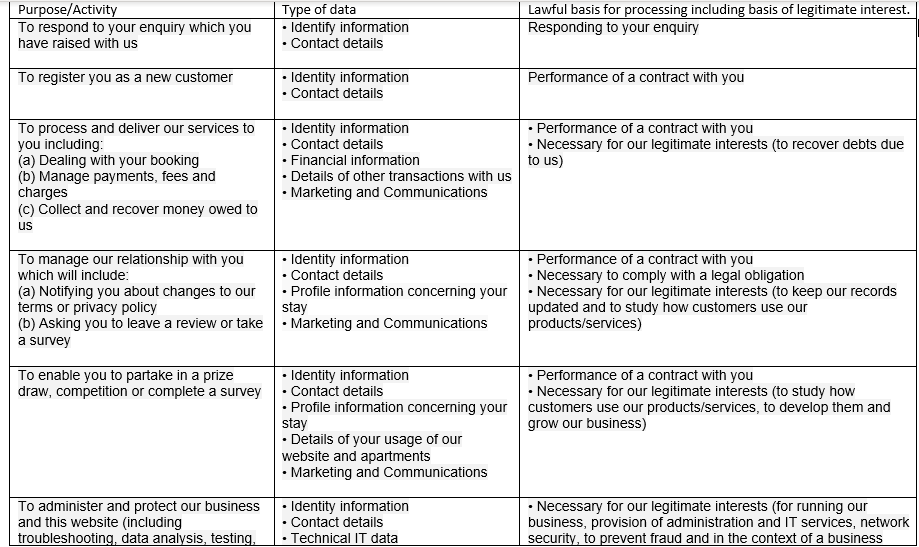 2.1.1 If we have your consent, we may use your personal data to make suggestions and recommendations to you about other bookings that may be of interest to you.
2.1.2 We do not collect any Special Categories of Personal Data about you (this includes details about your race or ethnicity, religious or philosophical beliefs, sex life, sexual orientation, political opinions, trade union membership, information about your health and genetic and biometric data). Nor do we collect any information about criminal convictions and offences.
2.2 We also obtain personal information from other sources as follows:
2.2.1 Automated technologies or interactions. As you interact with our website, we may automatically collect certain technical data (for example, internet protocol (IP) address, your login data, browser type and version, time zone setting and location, browser plug-in types and version, operating system and platform and other technology on the devices you use to access this website) about your equipment, browsing actions and patterns. We collect this personal data by using cookies, server logs and other similar technologies. Please see our cookie policy for further details.
2.2.2 Third parties or publicly available sources. We may receive personal data about you from various third parties and public sources as set out below:
2.2.2.1 technical IT data from the following parties:
2.2.2.1.1 analytics providers such as Google based outside the EU;
2.2.2.1.2 advertising networks based inside or outside the EU; and
2.2.2.1.3 search information providers based inside or outside the EU;
2.2.2.2 contact information, financial data and data concerning your booking from providers of technical, payment and delivery services based inside or outside the EU;
2.2.2.3 identity and contact data from publicly availably sources such as credit agencies based inside the EU.
3. Who we share your personal information with.
3.1 We may share your name with our third party suppliers of outsourced services such as housekeeping, property maintenance, property access, emergency support and other guest support service providers, or as required by any UK statutory authority . This data sharing enables us to deliver our contracted service levels to you.
3.2 We require all third parties to respect the security of your personal data and to treat it in accordance with the law. We do not allow our third-party service providers to use your personal data for their own purposes and only permit them to process your personal data for specified purposes and in accordance with our instructions.
3.3 We will share personal information with law enforcement or other authorities if required by applicable law.
3.4 We will not share your personal information with any other third party.
4. How long your personal data will be kept
4.1 We will only retain your personal data for as long as necessary to fulfil the purposes we collected it for, including for the purposes of satisfying any legal, accounting, or reporting requirements.
4.2 Unless we have your consent to use your data for any other purpose, after conclusion of the contract under which we have received your contact details, we will hold your name and contact details for the period we are required to retain this information by applicable UK tax law.
5. Security
5.1 We are committed to ensuring the security of the information we receive. All personal information is protected by reasonable means and procedures, including being stored on secure servers.
5.2 Where you have used our website for the purposes of booking a stay in our serviced apartments, you are reminded that sending information over the internet is inherently insecure and we cannot guarantee the security of all data sent. It is your responsibility to ensure that you have all reasonable and appropriate security measures in place on your own equipment and that you keep your login details for our website confidential.
6. Your Right
6.1 Under the Data Legislation, you have a number of important rights free of charge. In summary, those include rights to:
6.1.1 fair processing of information and transparency over how we use your use personal information
6.1.2 access to your personal information and to certain other supplementary information that this privacy policy is already designed to address
6.1.3 require us to correct any mistakes in your information which we hold
6.1.4 require the erasure of personal information concerning you in certain situations
6.1.5 receive the personal information concerning you which you have provided to us, in a structured, commonly used and machine-readable format and have the right to transmit those data to a third party in certain situations
6.1.6 object at any time to processing of personal information concerning you for direct marketing
6.1.7 object to decisions being taken by automated means which produce legal effects concerning you or similarly significantly affect you
6.1.8 object in certain other situations to our continued processing of your personal information
6.1.9 otherwise restrict our processing of your personal information in certain circumstances
6.2 For further information on each of those rights, including the circumstances in which they apply, see the Guidance from the UK Information Commissioner's Office (ICO) on individuals' rights under the Data Legislation.
6.3 If you would like to exercise any of those rights, please:
6.3.1 email, call or write to us (contact details are at the bottom of this page)
6.3.2 let us have enough information to identify you (eg. booking reference, main guest name, property for which you have booked)
6.3.3 let us have proof of your identity and address (a copy of your driving licence or passport and a recent utility or credit card bill)
6.3.4 let us know the information to which your request relates
6.4 If you would like to unsubscribe from any marketing email communications you can also click on the 'unsubscribe' button at the bottom of the marketing email.
6.5 You will not have to pay a fee to access your personal data (or to exercise any of the other rights). However, we may charge a reasonable fee if your request is clearly unfounded, repetitive or excessive. Alternatively, we may refuse to comply with your request in these circumstances.
6.6 We try to respond to all legitimate requests within one month. Occasionally it may take us longer than a month if your request is particularly complex or you have made a number of requests. In this case, we will notify you and keep you updated.
7. How to complain
7.1 We hope that we can resolve any query or concern you raise about our use of your information.
7.2 The Data Legislation also gives you right to lodge a complaint with a supervisory authority, in particular in the European Union (or European Economic Area) state where you work, normally live or where any alleged infringement of data protection laws occurred. The supervisory authority in the UK is the Information Commissioner who may be contacted at https://ico.org.uk/concerns/ or telephone: 0303 123 1113.
8. External Website
8.1 . If you follow a link on our website to an external website, we are not responsible for the protection or privacy policy of that external website. You should locate and examine the privacy policy of the external website before proceeding.
9. Amendments
9.1 We may change this policy from time to time.
9.2 . This privacy policy was published on 30th November 2019
10. How to contact us.
11.1 Please contact us if you have any questions about this privacy notice or the information we hold about you.
11.2 . If you wish to contact us, please send an email to nottingham@chayil.co.uk or write to 2 Chidlow Road, Nottingham, NG8 4PS or call +44 (0) 1157 794794.

Fire Policy If fire is discovered during your stay:
Activate the nearest fire alarm if you can, and leave the building through the back door.
Notify the local Fire Department by calling 999 and give them the address.
Call the site personnel about the fire emergency by calling our number.
Fight the fire ONLY if:
• The Fire Department has been notified.
• The fire is small and is not spreading to other areas.
• Escaping the area is possible by backing up to the nearest exit.
• The fire extinguisher is in working condition and personnel are trained to use it. Upon being notified about the fire emergency, occupants must:
• Leave the building using the front door.
• Assemble in the designated area – the front door.
• Remain outside until the competent authority (Designated Official or designee) announces that it is safe to reenter.